Our primary hosting facility is a state-of-the-art Internet Data Center (IDC) located in Parsippany, NJ at NAC.net, who maintains one of the largest, most fault tolerant networks in the northeast region providing extremely low-latency and data redundancy.


| | |
| --- | --- |
| The NOC is staffed 24/7 by experienced network technicians and a virtually no-hold 24-hour phone support line for business customers. Of course it is also equipped with the standard data center features - controlled environment, fire suppression systems, reliable backup UPS power systems, restricted access to authorized personnel only, etc. For more information, please take a virtual tour of our facility. | |

The most impressive thing about the datacenter is its peering. Data does not have to travel far to get to you which results in superior speeds and extremely low-latency.

If you would like to test latency to the server, ping our main IP 216.67.232.37. Click here to perform a speed test on download transfer rates from our server to your machine.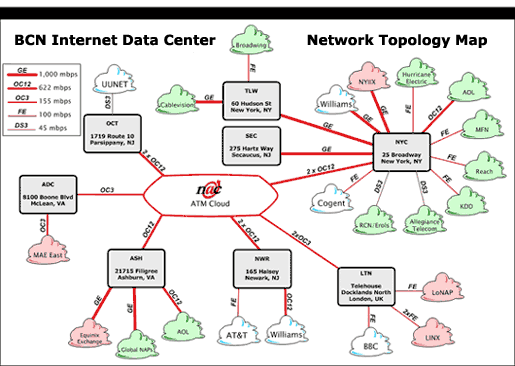 click to enlarge
We've tested ping response times extensively to our servers from our office in Boston where the major broadband carriers include Verizon, Comcast, and RCN. Both Verizon and RCN frequently showed < 15ms response while Comcast came in averaging < 40ms.

From customer locations throughout Massachusetts, New Hampshire, Vermont, Maine, New York, and New Jersey similar response times are experienced. As you go down the coast, D.C. area, Atlanta, and Florida customers generally also fall below the 40ms mark sometimes climbing up to 60ms depending on the provider and routes taken - which we are very happy about!

This means that your web site and other Internet services on a dedicated hosting server with us will be extremely fast. The result is that BCN dedicated servers make the perfect platform for online gaming servers, streaming media, and eCommerce web sites!

If you have any questions or concerns, please contact us.